An Organization Administrator or System administrator is someone who has full authority when it comes to managing users and Teams within the Organization, i.e. the private SciNote instance with a unique URL link.
They are the only role able to:
invite people to the Organization
create new Teams
manage its members (lock or activate user accounts, set a substitute Organization Admin, etc.).
The Organization Administrator is the only one who can see the Members tab and the Organization tab under Settings (see below).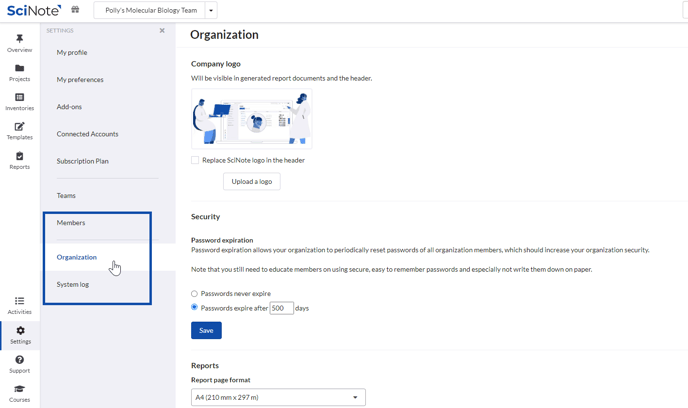 To learn how to add people to your SciNote organization, please follow along in this article.
In addition, under the Organization tab Organization administrators can:
change the password policy for the entire Organization
access the system log records (i.e. history of all logins and logouts) which can be exported as a .csv file.
_____________________________________________________________________________________ If you have any additional questions, please, do not hesitate to contact us at support@scinote.net. For more information about the Premium plans, please request a quote