In order to free up a license seat or restrict a user's access, the account must be locked in the Members tab under Settings.
If you are a SciNote Premium user, your plan includes user management, meaning you can add or remove members from your organization and team(s).
To lock (deactivate) a user account you need to:
Be an Organization administrator
Click Settings in the top right corner.
Select Members from the drop down
Find the user you want to lock. You can use the Filter option on the right (above the members list)
Click the 3 dots under the last column and select Lock account from the drop-down menu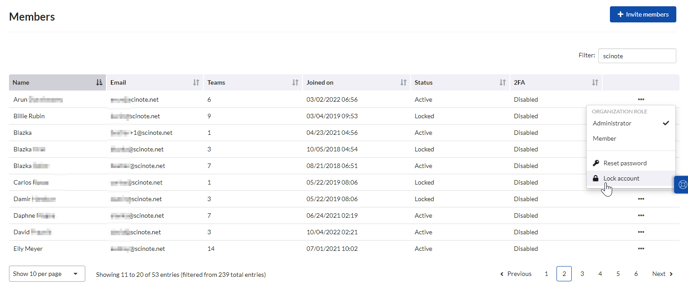 By locking an account, you prevent the member to log into your Premium SciNote instance. The action Lock account is reversible. If you, later on, choose to activate the account, the user will be able to log in again.
If you wish to reassign the data of the locked user onto you, you need to:
Navigate to a team from which you wish to inherit the content permissions of that member by clicking Settings>Teams>selecting the team from the list
Be a Team's Owner
Find the user you want to remove. You can use the Filter option on the right
Click the cogwheel under the Actions column and select Remove from the drop-down menu
Though the content is now assigned to you, the activity log and audit trail captures the prior user's actions.
If you choose to re-add the removed person to the team, the data will not be reassigned back onto them, meaning that this action is irreversible.
For more information, check out the video below.
______________________________________________________________________________________
If you have any additional questions, please, do not hesitate to contact us at support@scinote.net . For more information about the Premium plans, please request a quote