This article will explain how to create a team and how to add members to a team. You can also watch the video tutorial below.
Teams can only be created by the Organization administrator.
A team cannot be deleted, however, you can rename it.
Additionally, the Organization Administrator can add themselves to a Team as Team Administrator.
To create a team follow the steps below:
Navigate to Settings
Click Teams
Click on the New Team button.
Write down the Team's name and description
Click Create.
After you have created your team, you need to invite other team members. To invite additional users to your team please follow the next steps or watch the video tutorial above:
Click on Add team members
Input their name if they are already a member of the organization. Input their email if they are not yet a member of your organization. Click Invite Members.
Choose their role (Team administrator, Normal User, or Guest)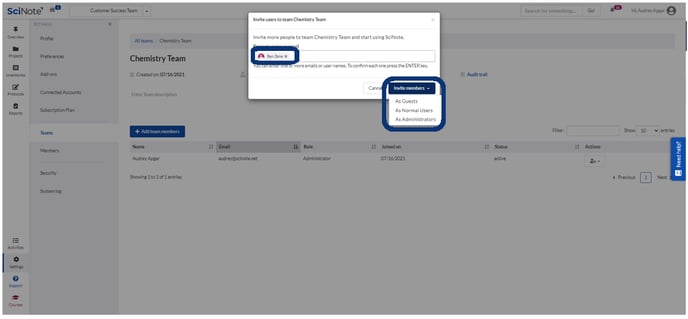 If you have any additional questions, please, do not hesitate to contact us at support@scinote.net. For more information about the Premium plans, please request a quote.