Before reading this article we suggest you read through the article about Task statuses here.
SciNote is a 21 CFR Part 11 compliant software that allows you to sign and co-sign the performed tasks. This helps users to perform a typical laboratory workflow like they would with paper laboratory notebooks.
Signing the task in SciNote prevents any further modifications to the task such as adding comments, results, or assigning samples.
To sign a task please follow the steps below:
Your role needs to be a technician, user, or owner on the project that contains the task you would like to e-sign.
Navigate to the chosen task.
You must first move the task to the In Review status (to learn more about the status please read this article).

In order to finish the task (i.e. moving it to the last status - Done), you will be requested to sign the task first.
SciBot automatically after the task was locked sends a signature request to all project members. One signature request results in one signature. This means that as soon as the first project member signs the task, others will not see the request anymore.
Next, you will be prompted to write down your credentials and an optional comment. If you would like to notify someone of your action when you are signing, rejecting, or revoking a signature, you may do so by mentioning their name in the comments. You can type @ followed by their name to mention them.
Finish by clicking Sign task.
If your organization uses 2FA (two-factor authorization) and SSO (single sign on) you may sign a task using your username and 2FA code.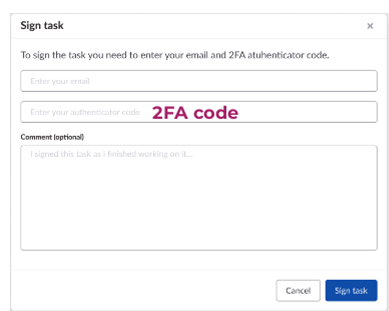 If you would like to learn how to co-sign a task, please see this FAQ. To learn how to revoke signatures, please see this FAQ.
To learn more about electronic signatures and other 21 CFR Part 11 requirements in SciNote watch our video tutorial. You can also read more about compliance with Title 21 CFR Part 11 here.
If you have any additional questions, please, do not hesitate to contact us at support@scinote.net. For more information about the Premium plans, please request a quote