In order to create a custom unit in the Stock Management column, you can do that by:
creating a custom column - first see this article, then follow the instructions below (second screenshot)
editing an existing custom column - Go to Inventories - Choose your inventory - Manage Columns - pencil icon

Go to the last item in the Stock units box and press Enter to add a new unit.
Type any name for your custom unit.
Press Update/Save column.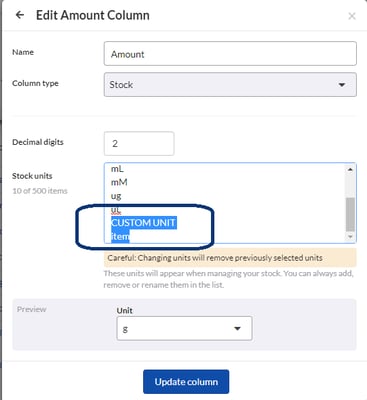 To select your brand new unit find the stock column you created and click on the stock amount/Set Stock, then choose the unit from the drop-down list, as shown here:

Don't forget to press Save stock when you finish.
If you have any additional questions, please, do not hesitate to contact us at support@scinote.net. For more information about the Premium plans, please request a quote.