Yes. SciNote enables you to preview the uploaded images, PDF files, and Microsoft Office files, such as Word, Excel, and PowerPoint.
The above-mentioned file types can be uploaded to the individual protocol step or to the results within a task (Results tab). You can then change the preview size of each individual file (via the "three dots" button on each file), or you can set the general view size for all files in the Attachments section on a protocol step on task (in the Manage dropdown button). See the image below.

Extra large (full-screen width)
This preview allows you to view and browse through the entire content of the file (all pages, all sheets, all slides), without having to open it.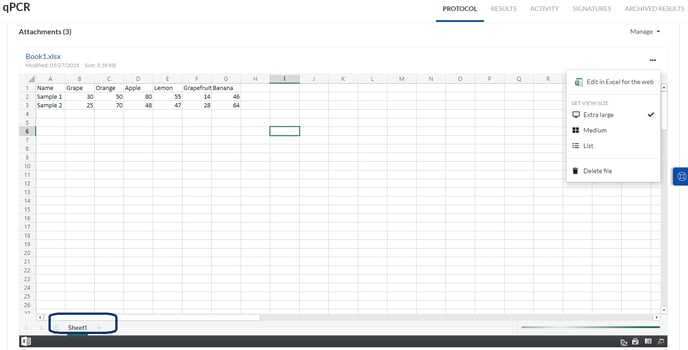 Medium (thumbnail size – default size)
This is the default preview enabled (see image below)


List view
As shown in the image below, the list view displays the file name, without the preview.

Full-screen preview
Regardless of which of the three attachment viewing options you selected, all of them can be previewed full-screen if you click on the attachment. In this view, you can also take advantage of the "gallery function", which enables you to flip through the previews of all attached files in the current protocol step or in results.
If you are viewing an image, this view also allows you to access our Image Annotation Tool, which we have described in another article.

If you're viewing a PDF or Word file, you can scroll down to view the content of the entire document. If you're viewing a PowerPoint file you can view all the slides by clicking the arrows below. Finally, if you're viewing an Excel file, you can move left/right and up/down to view the entire content, and you can also view all the sheets that the Excel file contains.
The file preview size that you set on the protocol step or in the results will also be displayed and directly accessible in SciNote reports. To learn more about it, read this article.
If you have any additional questions, please, do not hesitate to contact us at support@scinote.net. For more information about the Premium plans, please request a quote.