The Image annotation tool is integrated into the File preview screen and can be used for the following image attachments: .jpg, .jpeg, .png.
When you enter the File preview screen, the Edit in SciNote button is located in the right upper corner (see the image below). After you click on the button the image annotation tool opens in the same modal window.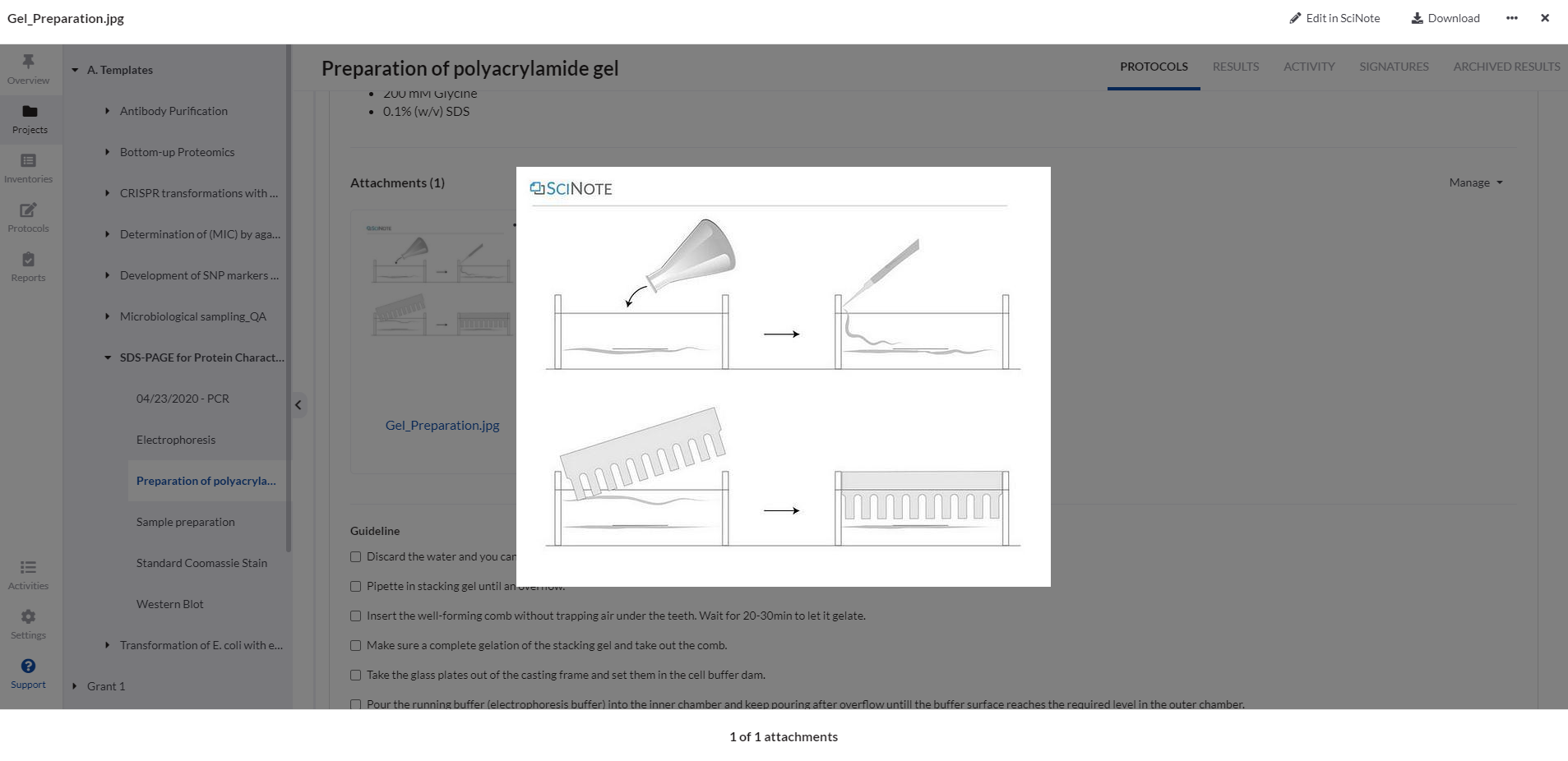 You can see the image editing toolbar that appears below the image preview and includes undo, redo, crop, shape, text, etc.
The header contains the image file name, Save & Close, Download, and X buttons. In the body image preview and also secondary image editing tools are displayed.
Be advised that secondary tools only appear after you click on primary tools. Images are displayed in the following default size: 550 x 450 px. In case the original image is larger than the default size, it's scaled back down to the default size. Also if the image is too large to display, the vertical scrollbar appears.
Now you are able to edit your desired image. You can choose between several editing options such as crop, flip, rotate, draw, shape, text, etc (see the picture below).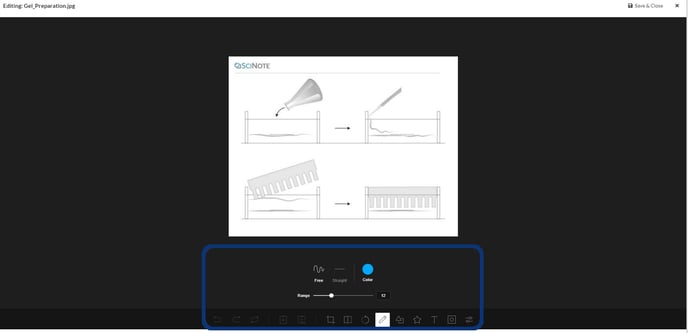 After you are finished click Save & Close button in the right upper corner (shown in the image below). Your image will be saved and its resolution preserved.
Please note that the original image is overwritten with all modifications made in Editing mode, and the preview of the edited image starts generating. Be advised that the preview image is displayed without the need to refresh the screen and the image resolution is not changed.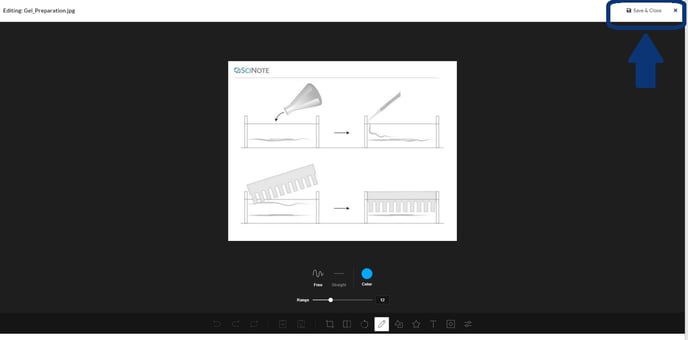 It is important to know that all edits to the image and the original image are flattened and stored as pixels. Any objects such as arrows, text, doodles added to the image are not stored as any type of special object.
When you edit this image next time, all the arrows, doodles, etc. will be presented as a part of the image and will be edited like any other part of the image.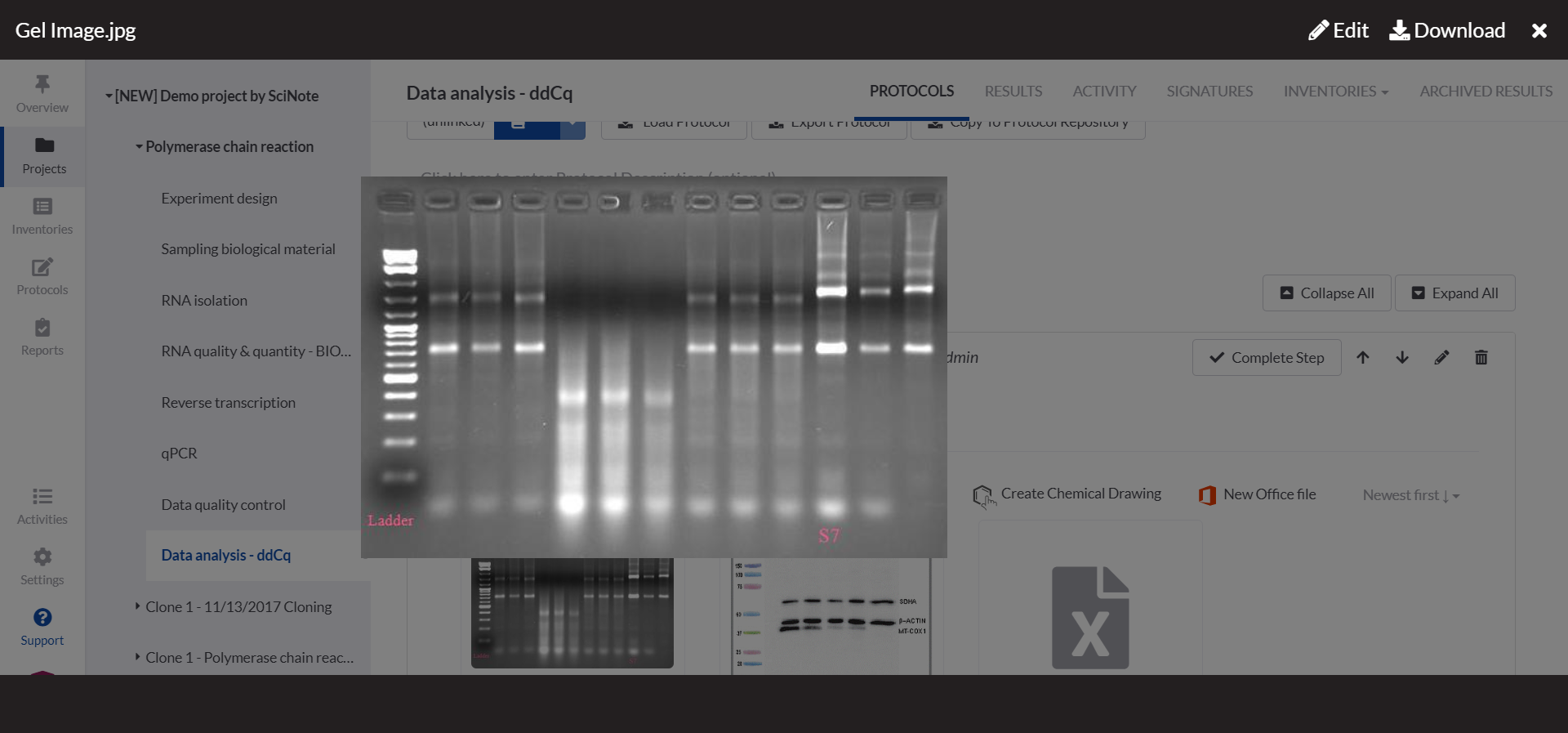 If you have any questions, please send us an email at support@scinote.net. For more information about the Premium plans, please request a quote.