Date Reminders are a versatile tool included in the Stock Management add-on, available to help you advance your inventory management.
How to set a date reminder:
Navigate to your desired inventory.
Click Manage columns.
Click add column button.
Name the column. (Ex: Expiration Date, Retest Date, Calibration Date)
Select Date & Time in the column type drop-down.
Under Options, select Reminder.
Use the text box and drop down to set your alert range.
Click Save column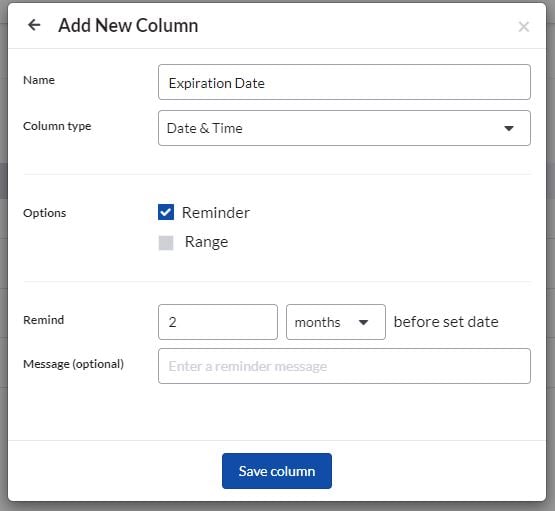 When the reminder is triggered, you and your teammates will see a bell icon 🔔 next to the item this reminder is assigned to.
A red dot🔴 will appear next to a date if it is within the alert range.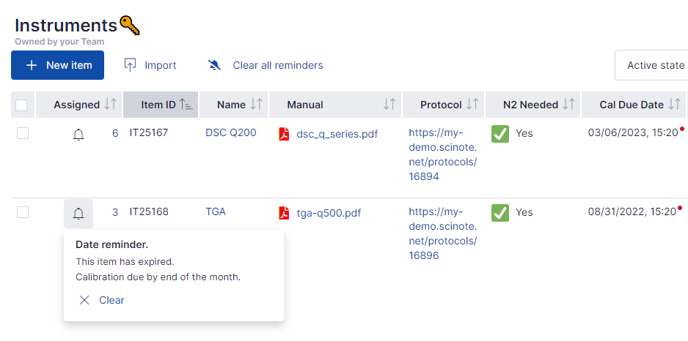 You can easily find which items are under within the alert range by checking off Active Reminders, found next to the inventory search bar.

To reset the due date, simple edit the inventory item and update the necessary columns.
______________________________________________________________________________________
If you have any additional questions, please, do not hesitate to contact us at support@scinote.net. For more information about the Premium plans, please request a quote.