How to reset user role permissions on a project
A role can be reset for an individual experiment or task, or for the entire project.
We can reset user permissions for the entire project (all of its experiments and tasks) by removing and re-adding a user to a project.
In case users would like to inherit role permissions from a level above (clear manual roles on an experiment or task card), the Inherit role option in the Manage access (for an experiment or a task card) pop-up can be selected.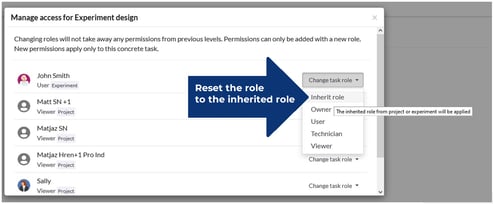 If you have any additional questions, please, do not hesitate to contact us at support@scinote.net. For more information about the Premium plans, please request a quote.