You can see the progress of your work on the dashboard, in the current tasks section, in the Calendar, and using the Table view option inside an experiment.
The current task section can be easily filtered by a project or experiment. Also, if you are looking for a particular task you can search for it using the built-in search bar. The section is divided into two groups:
Assigned to me - which are tasks that were assigned directly to you and you are currently working on
Team - these are all tasks created inside your team

The calendar helps you visualize your work so you can focus on important tasks. It offers a graphical representation of due dates. Each day that has a due task is marked with a red dot. Upon clicking on a day a list of all the tasks due on that day will appear as you can see in the image below.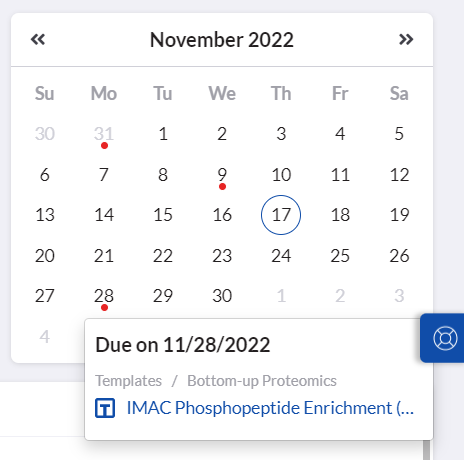 The Table view of Tasks inside the Experiment gives you a visual summary of the status of all the Tasks within that experiment.
You can select the 'Table view' by clicking on the Canvas view button at the top center and selecting 'Table' as shown in the image below.

---
If you have any additional questions, please, do not hesitate to contact us. For more information about the Premium plans, please request a quote or send us an email to premium@scinote.net.