SciNote's Microsoft Office Online integration enables you to create, upload, and edit Microsoft Word, Excel, and PowerPoint files directly inside SciNote.
For Premium users: To take advantage of SciNote's integration with Microsoft Office Online you must have an active Microsoft Office account that has online editing rights. Read more about it here.
Microsoft Office Online supports the viewing and editing of many major Microsoft Office file types, including .xlsx, .docx, and .pptx. All your changes are automatically saved back to SciNote as you type. You can even invite others to review and co-author files in real-time, knowing that everyone is working with the latest version.
To upload a Microsoft Office file within a protocol step:
Navigate to the Protocol step in Task
Click on the New Step button.
Once a new step is created, click Insert
From the drop down, click Add file
From the pop-up, click to upload or drag and drop your office file.
To create a Microsoft Office file within a protocol step:
Repeat steps 1 through 4 of uploading a Microsoft Office File (above)
Click Create an MS Office file. You can also do so under the Results tab, by clicking on the Add new result button.

Select the Office file type you would like to create, name it, and click

Create Document

.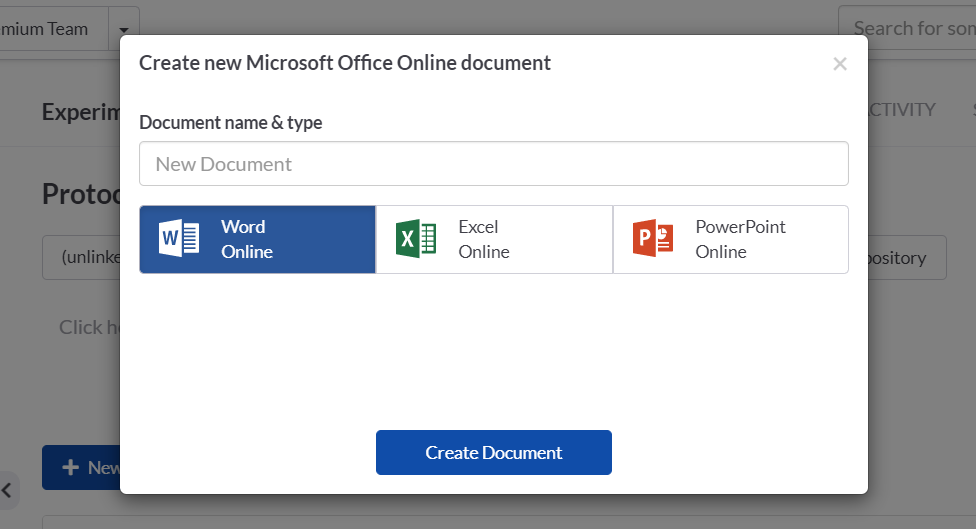 To learn more about MS Office Online integration with SciNote watch our video tutorial.
To edit a Microsoft Office file within a protocol step:
Click the three dots in the top right corner of the attachment
From the drop down, select Edit in ____ for the web

All of your edits will be automatically saved back to the file inside SciNote.

For more information, watch the video below.
______________________________________________________________________________________ If you have any questions, please send us an email at support@scinote.net. For more information about the Premium plans, please request a quote.