SciNote enables you to use advanced filters to search for specific activities (changes made in SciNote) you are interested in.
You can filter for activities based on:
an individual user(s) or the entire team
a specific time period
project, experiment, and task
inventories, protocols, and reports
You can apply several filters at the same time. However, you will only be able to see activities that pertain to projects that you have access to.
The advanced filtering function applies to Global Activities, Project Activity, and Task Activity.
To view and navigate through Global Activities across your SciNote Team:
Click the tab Activities in the menu bar on the left side of your screen
Use the filter options displayed on the right to search through teams and projects you were added to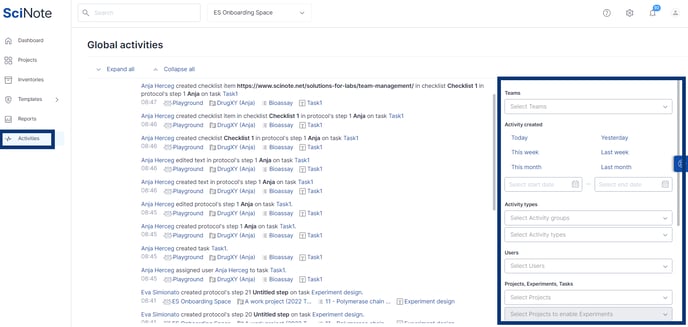 To view activities for a specific project:
Click on the Settings (three dots) icon on the project card and select Open activities.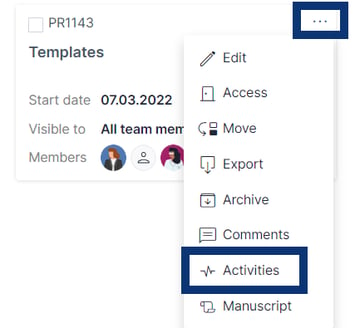 To view activities from a particular task:
Navigate to that task, and then click on the Activity section in the toolbar at the top of the task screen.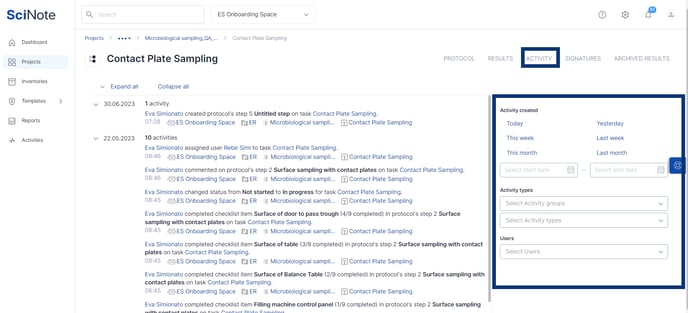 For more information, check out the video below.
---
If you have any additional questions, please do not hesitate to contact us at support@scinote.net. For more information about the Premium plans, please request a quote