How do you change the SciNote logo to your company logo?
To personalize SciNote, you can now replace the SciNote logo with your company logo in the interface and reports.
To do this, the organization administrator can log into SciNote and upload the logo of their choice.
Click on the

setting

tab, then the

organization

tab

You will be directed to a screen with the SciNote logo under the Company logo heading.

Click Upload a logo to choose an image saved on your PC.
Be sure to click the box next to "Replace SciNote logo in the header" to have your logo appear!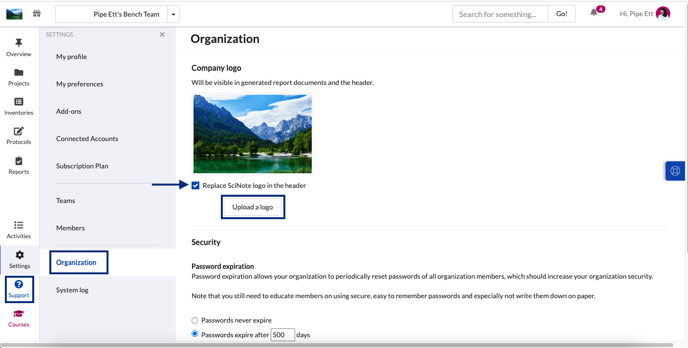 The acceptable image file formats include:
Keep in mind, horizontal layout for the logo works best and the minimum height of the logo should be around 56px.
If you have any additional questions, please, do not hesitate to contact us at support@scinote.net . For more information about the Premium plans, please request a quote