You can upload your files under the individual protocol step. You can upload any type of file to a protocol step, such as .doc, .txt, .csv, .xls, .jpeg, jpg, .png, .ppt, .pdf, ODF Documents (.odt, .ods, .odp).
You are also able to upload and edit Microsoft Word, Excel, and PowerPoint files within SciNote. All content changes will be saved automatically as you type. This enables you to invite others to review and co-author a file in real-time while making sure that everyone is working on the latest version.
Follow the next steps to upload files to your task:
Open the step to which you would like to upload files
Click the Insert drop-down
Drag and drop or select to upload your file (s).
Choose your file and click Save
After the file is uploaded you can also change the preview size of this particular file by clicking on the Settings icon (3 small dots in the right upper corner of the file window) as seen in the image below.
You can also set the default size of all the attachments in one step at once by clicking on the Manage button (shown in the image below).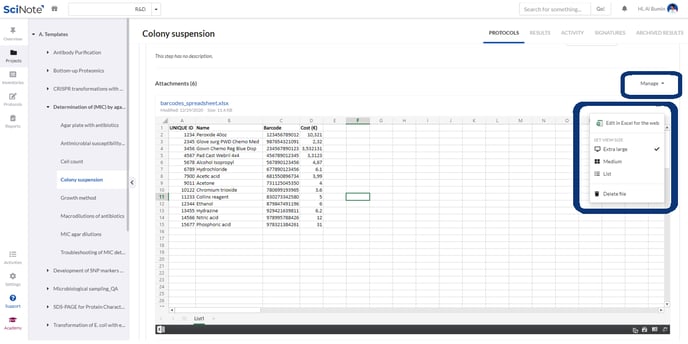 The size of a file uploaded is limited to 50 MB on the free account and 300 MB on the SciNote Premium account. Your total storage space is determined by your current plan.
For easier understanding watch our video tutorial below.
If you have any additional questions, please, do not hesitate to contact us at support@scinote.net. For more information about the Premium plans, please request a quote.